Stamped and Decorative Concrete North Texas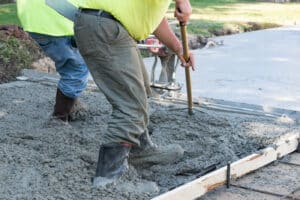 We are the best stamped and decorative concrete contractors in the whole of DFW Area. We are a company of experts who specializes in everything that deals with concrete. Our team of experts, who have many years of knowledge under their belt in this field, will make sure that all your concrete needs are meet.
We accept all types of concrete works. We have carried out numerous concrete jobs, both residential and commercial.  Customer satisfaction is something we give importance to and will make sure that all your requests are met to your highest fulfillment.
Since concrete is one of the basics of construction and plays a major part in the stability of a building, it is important that only experts are allowed to handle them. Our knowledge and training will make sure that everything takes place without a problem. When it comes to concrete works there is no one that can give a best run for your money. Whatever your requests may be whether it's a concrete repair, sidewalk or patio concrete, you can rest easy that we will do a systematic and complete job.
Besides concrete construction, we also remove concrete constructions that are in violation. Our trained personnel will make sure that the removal of concrete is done in such a way that no harm arises to your property. Below are the services we offer:
If you need concrete contractor, you can call us and we will schedule you for a free consultation. You can also be sure that we are providing you with the best value for your money when it comes to your concrete needs.
Get Your FREE Quote Today
Fill out the form below and a North Texas team member will get back with you as soon as possible.
The Best Concrete Contractor in North Texas
We know that selecting the right concrete contractor is important because it is an investment. You want to choose an experienced and professional concrete contractor that will deliver the best result to last for years to come. We are the best concrete contractor in North Texas that you can trust. We will guide you along and educate you with the best information concerning a concrete paving solution for your project.
Concrete Contractor Near Me in North Texas
With our years of experience in the concrete business, we have been able to work with different issues and we have delivered a variety of solutions to our clients. As part of the training of our contractors, they are able to handle different concerns using a variety of brands, functionalities, and installation methods.
"Chris and his team were awesome. We would hire them again and will recommend them to friends. They capped an old patio and extended it. Great price and excellent work. Thanks guys!"