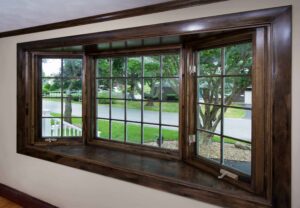 A window style that allows you to maximize interior space while also allowing for the best views. That sounds like a truly ideal type of window.  The good news is that it does indeed exist and there isn't just one but two great examples of it – the bay & bow windows.
Bay & bow windows from North Texas Home Exteriors are probably the best examples of this window type in the DFW area. But there's a slight catch here since most people think of bay and bow windows to be the same. The truth, in fact, is that they are not one and the same. So what's the difference between the two and what makes them distinct from one another? 
Get Your FREE Quote Today
Fill out the form below and a North Texas team member will get back with you as soon as possible.
Difference Between Bay & Bow Windows
We need to clear up the difference and the disparity between bay & bow windows. Sure, they might seem similar and a lot of people do think that, but they're actually different and distinct from one another.
Looks can be deceiving and it's the case for these two window types. At first look, it would be easy to mistake one for the other. But closer inspection will reveal what makes each one unique.
A bay window is equipped with three openings. Each opening is projected at an angle. On the other hand, a bow window is equipped with four or five openings instead.
When it comes to a bay window's overall structure, there is a picture window and two other windows on either side. Those two windows at the side are usually smaller. In contrast, a bow window is curved. This creates a circular appearance, especially when viewed from the outside. 
Bay windows extend farther out from the wall and onto the exterior area. This makes it a little more spacious. Bow windows, on the other hand, allow more light into the interiors since they are equipped with more glass panels.
In terms of what they're able to offer homeowners, we mentioned above that both windows add more space to the interiors. They also give the best or at least some of the best views possible from the interiors of homes.
The Nicest Looking Windows in the Dallas Fort Worth Area
Going for the nicest looking windows that also gives you a glimpse of the outside in the best possible way? Bay & bow windows from North Texas Home Exterior should be the leading candidates for that. Although we do also have other terrific options that homeowners could simply choose from.
If you're a homeowner, you can select from:
Each window type would be an excellent choice, whether for window replacements or new installations. You might want an entirely new look for your home or continue the old look by replacing it with a new set.
Whatever the case and whatever your needs, why not give us a call now and get your free quote. That would be the start of getting the kind of windows that you and your home deserve.